DOT continues to help Americans reach opportunity by ensuring that America's transportation system provides reliable, safe, and affordable ways for people to reach jobs, education, and other essential services outside their communities.
For riders, Uber creates options for them to move around and reach every community. For the women and men who drive with Uber, the Uber app represents a flexible new way to earn money. For cities, Uber helps strengthen local economies, improves access to transportation, and makes streets safer. Transportation opens up reliable, safe, and affordable access to jobs, education, and other essential services. But that isn't happening for everyone. A New York University Rudin Center for Transportation study compared neighborhoods by accessibility to mass transit and the number of jobs within an hour's commute. It found that areas with some, but insufficient, access to transportation — had the highest rates of unemployment and the lowest incomes. On the other hand, residents of areas well-served by transit or who could rely on personal vehicles had reasonable access to opportunity.
The theme of this hackathon is therefore: Celebrating Cities: Connecting the People of Baltimore, Maryland, and DC with Opportunity through Transportation.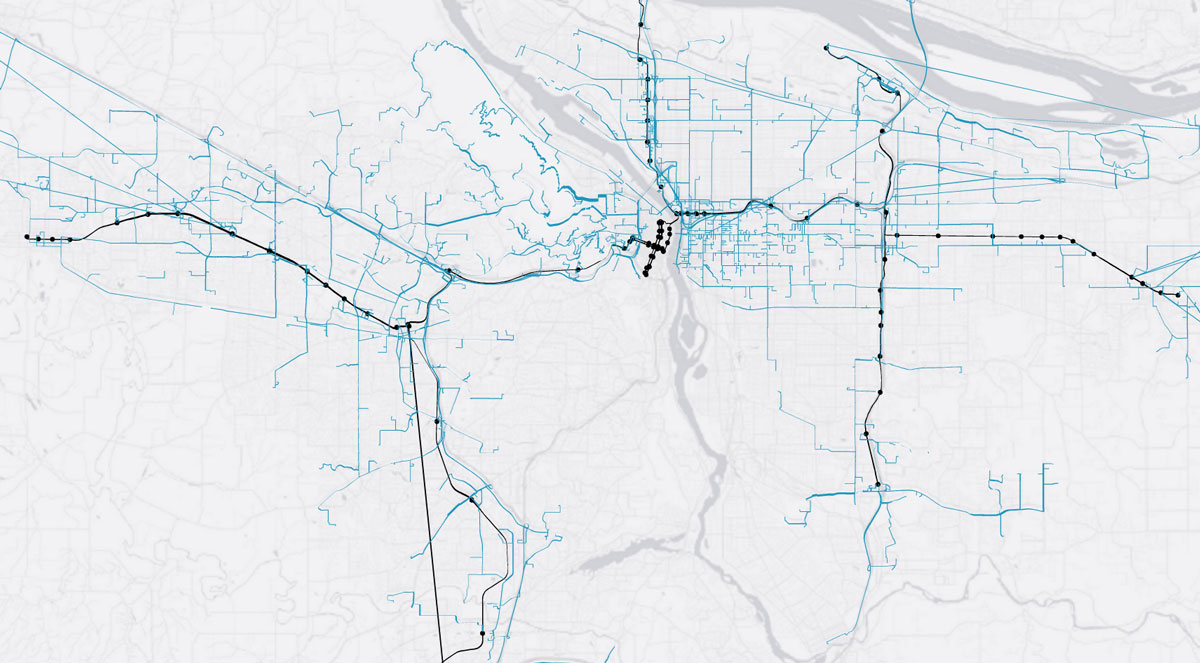 Uber complements existing transit systems. This map shows completed Uber trips in Portland, Oregon that started or ended within a quarter mile of a train station.
---
Problem Statements
Catalyze neighborhood revitalization in underserved urban areas
Focus on the area near the West Baltimore MARC Station, where existing transportation access provides a good starting point for neighborhood revitalization. Using Federal data sets in combination with local data sets, show how the West Baltimore MARC station provides access to jobs, job training, quality education, and other services. Describe relevant demographics like unemployment, income level, and car ownership in the surrounding neighborhood. Using the Uber Development Platform, demonstrate how accessing Uber services might increase the connectivity of this area. Compare the cost and time profiles for use of Uber services in combination with transit against the Location Affordability Index for the same area.
Tom's Vignette
Michelle's Vignette
Serving last-mile mobility
Public transit and other services provide numerous mobility options for citizens. However, it can be difficult to obtain convenient, affordable and safe access to these services in underserved areas. Using the Uber Developer Platform, develop compelling applications with easy-to-use features, services, and tools that can help bridge that gap. Incorporate non-transportation information, like public safety (crime) and access to quality schools.
Janice Vignette
John's Vignette
Visualizing Time Use for Different Populations
When it comes to transportation access, inequality is more than just a question of affordability — it's also a question of time. Using Federal data sets about time use, visualize time use disparities for differing ethnic groups and income levels. Connect these data sets with Federal data sets about ethnic and demographic profiles to show which communities might benefit from increased transportation options.
Santiago's Vignette